What is Patient Safety?
When we talk about patient safety, we're really talking about how hospitals and other health care organizations protect their patients from errors, injuries, accidents, and infections. While many hospitals are good at keeping their patients safe, some hospitals aren't. As many as 440,000 people die every year from preventable errors in hospitals. It's up to everyone to make sure that patient safety is the number one priority at every hospital across the United States. Some hospitals have hidden dangers, but there are things you can do to protect yourself and your loved ones.
In this section, you can:
Errors, Injuries, Accidents, Infections
In some hospitals, patient safety is a top priority. Strong health care teams reduce infection rates, put checks in place to prevent mistakes, and ensure strong lines of communication between hospital staff, patients, and families.
But some hospitals don't have teams that work well together, or good leadership to ensure that patient safety is the number one priority. When one person makes a mistake, there isn't a good team ready to catch that mistake. Patients can experience dangerous complications, recovery is slower, and some patients even die unnecessarily.
For example, an air or gas bubble in the blood (air embolism) is a serious medical error. An air or gas bubble stops blood from flowing through the body. This serious mistake can happen during surgery or other procedures. If blood flow is blocked, a patient can suffer a stroke or die.
Many hospitals in this country have safety records that wouldn't be tolerated in any other industry. The statistics are alarming:
As many as 440,000 people die every year from hospital errors, injuries, accidents, and infections
Every year, 1 out of every 25 patients develops an infection while in the hospital—an infection that didn't have to happen.
A Medicare patient has a 1 in 4 chance of experiencing injury, harm or death when admitted to a hospital
Today alone, more than 1000 people will die because of a preventable hospital error
It's important to remember that most hospital errors can be prevented. Hospitals need to work hard every day to protect their patients from errors, injuries, accidents, and infections.
What should I do if I see an error made in the hospital?
If you are concerned, feel like something might go wrong, or if you actually see an error made in a hospital, you should:
Talk to someone immediately. The closer this individual is to your personal care, the better. Your bedside nurse is a good place to start.
Do not wait to report the incident if no one you know is around. All health care staff members – from physicians to the custodial crew – are there to make your care as safe as possible.
Discuss the issue in a respectful, yet assertive manner. No one wants to make a mistake, so let the caregiver know so he or she can address the problem quickly.
If the error happens to you, talk to a hospital employee who can investigate and resolve the problem. Be clear that you expect to hear back about the issue, and that you would like to see something done to address the error. You or a family member should follow up after reporting.
If you do not receive an answer during your stay or shortly after being discharged from the hospital, contact the hospital's customer service, patient advocacy or patient and family relations department. (Each hospital may have different titles for these groups.) If you are uncomfortable asking someone directly within the unit you or a family member was in, seek out a neutral party (like a hospital librarian) who can help you identify another group to contact.
Many hospitals have an established system for reporting errors, such as a suggestion box or a hot line. Use these systems. The problem will not be addressed if it is not reported.
What is the difference between patient safety and quality?
Patient safety is an important element of an effective, efficient health care system where quality prevails. Here's how you can break it down:
Safety has to do with lack of harm. Quality has to do with efficient, effective, purposeful care that gets the job done at the right time.
Safety focuses on avoiding bad events. Quality focuses on doing things well.
Safety makes it less likely that mistakes happen. Quality raises the ceiling so the overall care experience is a better one.
Your nurses, doctors and loved ones all want the same outcome: for you to get better quickly. As the patient, you too are part of the health care team. It's important that you speak up and remember:
You will observe and interpret activities and conversations differently from your health care team. Share your experiences with your family members and health care team to make sure you're getting the best care possible.
You can help the team do a better, safer job. As members of the care team, you and your family can hold other team members accountable.
You should speak up immediately if you see something that is not right or safe.
To ensure safe care, it is important to be an active member of the health care team.
Why the Hospital Safety Grade Works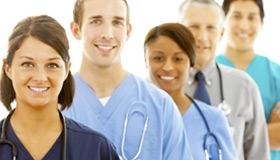 One of the most significant problems with today's health care system is the failure to make safety and quality information available to the public. But the public deserves this information so they can make informed choices about where to receive care. The purpose of the Leapfrog Hospital Safety Grade is to bring this information to light in a way that is easy for you – the consumer – to use.
Some people do more research on what car to buy than what hospital to go to for medical care. The Leapfrog Hospital Safety Grade provides data and research to help you make informed decisions about a critical aspect of your hospital stay – safety. A hospital may have the best surgeons and greatest technology in the world, but unless it is preventing infections and eliminating errors, it is not delivering on a very basic premise: ensuring the safety of you and your loved ones. The goal of the Leapfrog Hospital Safety Grade is to reduce the approximately 440,000 yearly deaths from hospital errors and injuries by publicly recognizing safety and exposing harm.
Our letter grade scoring system allows consumers to quickly assess the safety of their local hospital, and choose the safest hospital to seek care. As consumers use the Leapfrog Hospital Safety Grade more and more, we hope more hospitals will be compelled to be open about their safety and quality, and participate in meaningful public reporting.