Your Hospital's Safety Grade
Whether you simply want to know about the hospitals in your area, or you need to choose a hospital for surgery or other procedure, the Leapfrog Hospital Safety Grade should be your first stop for finding the best hospital for you and your family.
The Safety Grade can tell you more about things like:
How well does my hospital prevent infections and encourage handwashing?
Does my hospital value patient safety by supporting strong health care teams?
Are there protocols and standards in place for preventing errors at my hospital?
In this section, you can:
About the Grade
Leapfrog Hospital Safety Grades (formerly known as Hospital Safety Scores) are assigned to over 2,600 general acute-care hospitals across the nation twice annually. The Safety Grade is becoming the gold standard measure of patient safety, cited in MSNBC, The New York Times, and AARP The Magazine.
The Leapfrog Hospital Safety Grade uses national performance measures from the Centers for Medicare & Medicaid Services (CMS), the Leapfrog Hospital Survey and other supplemental data sources.
Taken together, those performance measures produce a single letter grade representing a hospital's overall performance in keeping patients safe from preventable harm and medical errors. The Safety Grade includes 28 measures, all currently in use by national measurement and reporting programs. The Leapfrog Hospital Safety Grade methodology has been peer reviewed and published in the Journal of Patient Safety.
Leapfrog works under the guidance of an Expert Panel to select appropriate measures and develop a scoring methodology. The Expert Panel is made up of patient safety experts from across the country:
David Bates, M.D., Harvard University
Andrew Bindman, M.D., University of California, San Francisco
Jennifer Daley, M.D., F.A.C.P.

Matthew D McHugh, Ph.D., J.D., M.P.H., R.N., C.R.N.P., F.A.A.N., University of Pennsylvania School of Nursing

Arnold Milstein, M.D., M.P.H., Stanford University
Peter Pronovost, M.D., Ph.D., F.C.C.M., University Hospitals
Patrick Romano, M.D., M.P.H., University of California, Davis
Sara Singer, Ph.D., Stanford University
Arjun Srinivasan, M.D., CAPT U.S. Public Health Service, Centers for Disease Control and Prevention
Tim Vogus, Ph.D., Vanderbilt University
How the Leapfrog Hospital Safety Grade is produced
The Expert Panel selected 28 measures of publicly available hospital safety data, analyzed the data and determined the weight of each measure based on evidence, opportunity for improvement and impact. Information from secondary sources supplemented any missing data to give hospitals as much credit as possible toward their Safety Grade.
The Leapfrog Hospital Safety Grade places each measure into one of two domains: (1) Process/Structural Measures or (2) Outcome Measures, each accounting for 50 percent of the overall score.
Process Measures represent how often a hospital gives patients recommended treatment for a given medical condition or procedure. For example, "Responsiveness of hospital staff" looks at patients' feedback on how long it takes for a staff member to respond when they request help. Structural Measures represent the environment in which patients receive care. For example, "Doctors order medications through a computer" represents whether a hospital uses a special computerized system to prevent errors when prescribing medications.
Outcome Measures represent what happens to a patient while receiving care. For example, "Dangerous object left in patient's body" measures how many times a patient undergoing surgery had a dangerous foreign object, like a sponge or tool, left in his or her body.
A hospital must have enough safety data available for our experts to issue them a letter grade. Hospitals missing more than seven process measures or more than five outcome measures are not graded. All hospitals are encouraged to voluntarily report additional safety data through the Leapfrog Hospital Survey, but they are not required to do so to receive a Safety Grade.
Some hospitals belong to health systems that report data to the Centers for Medicare & Medicaid Services (CMS) as a single entity with a shared "Medicare Provider Number (MPN)." This means that individual hospitals within these systems will be graded using the same aggregate data. Leapfrog encourages these types of hospitals to report additional safety data through the Leapfrog Hospital Survey so that patients can see how each hospital is doing individually.
At this time, we are unable to assign a grade to military or VA hospitals, critical access hospitals, specialty hospitals, children's hospitals, outpatient surgery centers, etc. Our experts are studying ways to rate them in the future.
View the Spring 2019 Leapfrog Hospital Safety Grade Methodology and Explanation of Safety Grades.
How to Use the Grade
Many hospitals have world-renowned doctors and equipment, but not all hospitals prioritize their patient's safety above all else. You deserve to know which hospitals do the best at protecting their patients from harm. That's why we developed the Leapfrog Hospital Safety Grade. This tool can help guide your decision in a number of situations:
Has your doctor referred you or a family member to a hospital for surgery?
Are you preparing to have a baby?
Is someone in your family suffering from chronic illness that could require immediate or consistent hospital care?
Is your choice of hospital solely based on location or word-of-mouth?
The Safety Grade rates hospitals on the very basics of medical care, such as handwashing, entering prescriptions through a computer, and the availability of highly-trained nurses. So no matter the reason for a hospital visit, safety should be your number one concern.
Which hospital do I pick?
Choosing your hospital is a matter of personal preference, but we know "A" hospitals do a better job at preventing errors. If your local hospital rates below an "A," talk with your doctor at that hospital and urge them to improve their safety. If all your local hospitals score poorly, use these Safety Grades to start a conversation with hospital leadership and local policymakers about improving hospital safety.
A small number of hospitals have consistently achieved "A" grades--an impressive feat. These hospitals are denoted with the "Straight A's" logo in recognition of their achievement of the highest standards of patient safety year after year. We hope all hospitals will strive to offer this level of dependable care.
You should never refuse care in an emergency because of a hospital's Safety Grade, but use this website as a guide for planned events and a research tool for potential emergencies.
What measures are most important?
Every person will have different ideas about what is most important to them, but we suggest checking out whether your hospital scores well on:
Handwashing Does your hospital have a handwashing policy to ensure all staff members are washing their hands before and after patient contact?
Infection in the blood Hospital patients may be given a central line (a tube inserted into the body to deliver medication and other treatments). Patients with a central line are at high risk for developing a dangerous infection in the blood. Is your hospital showing a low number on this measure?
Patient falls What is your hospital doing to ensure you don't suffer an added injury from a fall while in the hospital?
What about past grades?
Since 2012, Leapfrog has released Safety Grades twice per year for over 2,600 hospitals across the U.S. To be as transparent as possible, we make those past grades available, just by clicking on "Show Recent Past Grades" underneath a hospital's current grade.
Displaying past grades makes it clear which hospitals consistently achieve high standards of patient safety and which have demonstrated a steady path of improvement. Patients should always decide on where to receive care based on a hospital's current Safety Grade. However, past grades can tell you a lot about that hospital's track record in keeping its patients safe from errors, injuries, accidents and infections. Keeping an eye on your local hospital's Safety Grades over time also makes it easier to spot patterns—whether a hospital is working to improve or has allowed its focus on safety to slip.
If you're concerned about past grades, ask your doctor what your hospital is doing to keep its patients safe. Remember, you have a choice of where to receive care. And you deserve to be in the safest hospital possible.
We don't have Safety Grades for every hospital. Here's why:
Certain hospitals are not required to publicly report their safety record, which means that our experts don't have enough information to issue them a Leapfrog Hospital Safety Grade. These hospitals include:
Specialty hospitals, such as children's hospitals and surgical centers
Critical access hospitals
Hospitals in Guam and Puerto Rico
Additionally, many hospitals are not able to provide data to the federal government because they are too small, or lack the necessary data—like military and veteran's hospitals. Leapfrog experts are studying ways to rate them in the future.
Choosing the Best Hospital
Every day, we make choices about where we shop, who we bank with, what cars we drive, and on and on. Yet despite our consumer culture, some people aren't even aware they can choose what hospital they go to. We're here to change that.
Your choice of hospital could be a life or death decision. Hospitals vary greatly on things like infection rates, surgical errors, and patient injuries--not to mention ER wait times, patient satisfaction, and other things we're just now starting to measure.
Choosing the best hospital for you doesn't have to be a daunting task—as long as you have the right tools. Your first step in finding the best care for yourself and your family is finding a safer hospital. Use the Leapfrog Hospital Safety Grade search tool to find the safest hospital in your area, preferably one with an "A" grade. Now, think about what type of care you might need. Are you getting ready to have a baby? Do you or a family member need surgery?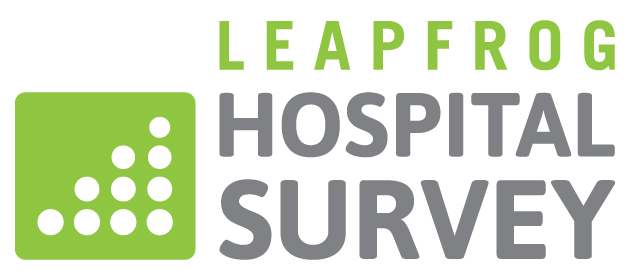 In addition to issuing Leapfrog Hospital Safety Grades twice per year, The Leapfrog Group also collects and publicly reports information on hospital quality and resource use through our annual Leapfrog Hospital Survey. We focus on the issues that really matter to patients—from maternity care and surgical outcomes, to medication errors and adequate training.
So, if you or a family member needs surgery, you can see how your hospital compares on mortality rates of certain high-risk procedures. If you are pregnant, you can find out how your hospital does on maternity care metrics like C-sections and managing high-risk deliveries. If you're concerned about a seriously-ill parent or family member, you can look at ICU staffing protocols and how the hospital uses computerized prescribing and bar-code technology to keep patients safe from medication errors.
You can learn more about choosing the best hospital on the Leapfrog website.