About the Grade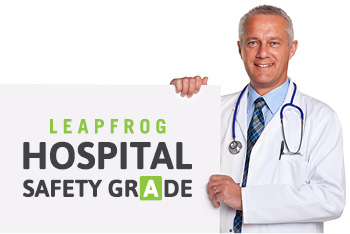 Leapfrog Hospital Safety Grades (formerly known as Hospital Safety Scores) are assigned to nearly 3,000 general acute-care hospitals across the nation twice annually. The Safety Grade is the gold standard measure of patient safety, cited in MSNBC, The New York Times, and AARP The Magazine.
The Leapfrog Hospital Safety Grade uses up to 30 national performance measures from the Centers for Medicare & Medicaid Services (CMS), the Leapfrog Hospital Survey and information from other supplemental data sources. Taken together, those performance measures produce a single letter grade representing a hospital's overall performance in keeping patients safe from preventable harm and medical errors. The Leapfrog Hospital Safety Grade methodology has been peer reviewed and published in the Journal of Patient Safety.
Leapfrog works under the guidance of an Expert Panel to select appropriate measures and develop a scoring methodology. The Expert Panel is made up of patient safety experts from across the country:
David Bates, M.D., Harvard University
Kathy McDonald, PhD, Johns Hopkins University School of Nursing
Matthew D McHugh, Ph.D., J.D., M.P.H., R.N., C.R.N.P., F.A.A.N., University of Pennsylvania School of Nursing
Arnold Milstein, M.D., M.P.H., Stanford University
Doris Peter, PhD, Consultant
Peter Pronovost, M.D., Ph.D., F.C.C.M., University Hospitals
Patrick Romano, M.D., M.P.H., University of California, Davis
Sara Singer, Ph.D., Stanford University
Arjun Srinivasan, M.D., CAPT U.S. Public Health Service, Centers for Disease Control and Prevention
Tim Vogus, Ph.D., Vanderbilt University
How the Leapfrog Hospital Safety Grade is produced
The Expert Panel selected 22 evidence-based measures of patient safety, including CMS Medicare PSI 90 Patient Safety and Adverse Events composite (which includes 10 component measures of patient safety), analyzed the data, and determined the weight of each measure based on evidence, opportunity for improvement and impact. In some cases where a hospital's information is not available for a certain measure, Leapfrog uses a supplemental data source. In cases where a hospital's information is not available from any data source, Leapfrog has outlined a methodology for dealing with the missing data.
The Leapfrog Hospital Safety Grade places each measure into one of two domains: (1) Process/Structural Measures or (2) Outcome Measures, each accounting for 50 percent of the overall score.
Process Measures represent how often a hospital gives patients recommended treatment for a given medical condition or procedure. For example, "Responsiveness of hospital staff" looks at patients' feedback on how long it takes for a staff member to respond when they request help. Structural Measures represent the environment in which patients receive care. For example, "Doctors order medications through a computer" represents whether a hospital uses a special computerized system to prevent errors when prescribing medications.
Outcome Measures represent what happens to a patient while receiving care. For example, "Dangerous object left in patient's body" measures how many times a patient undergoing surgery had a dangerous foreign object, like a sponge or tool, left in his or her body.
A hospital must have enough safety data available for our experts to issue them a letter grade. Hospitals missing more than six process measures, more than five outcome measures, or PSI90 are not graded. All hospitals are encouraged to voluntarily report additional safety data through the Leapfrog Hospital Survey, but they are not required to do so to receive a Safety Grade.
The Leapfrog Group's goal is to publicly report patient safety and quality information for the benefit of consumers, purchasers, and referring physicians as they make decisions about where to seek care and where to direct patients. Identifying differences among facilities is critical to inform patients and their family's decision-making. That's why Leapfrog reports results by facility for all programs.
However, some hospitals belong to health systems that report data to the Centers for Medicare & Medicaid Services (CMS) as a single entity with a shared "CMS Certification Number (CCN)." This means that individual hospitals within these systems will be graded using some of the same aggregate data. Leapfrog encourages these types of hospitals to report additional safety data through the Leapfrog Hospital Survey so that patients can see how each hospital is doing individually for select measures included in the grade.
At this time, we are unable to assign a grade to military or VA hospitals, critical access hospitals, specialty hospitals, children's hospitals, outpatient surgery centers, etc. Our experts are studying ways to rate them in the future.
View the spring 2023 Leapfrog Hospital Safety Grade Methodology and explanation of Safety Grades.